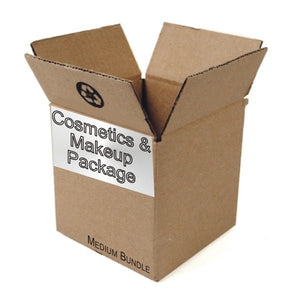 Wholesale Package of 100 Assorted Beauty, Cosmetics & Makeup Related Products
Dollar Fanatic Wholesale
Regular price $150.00 $125.00 Sale
SALE:

Medium Cosmetics & Makeup Package

Wholesale Bundle of 100 Assorted

Product Description:

This is a premium bundle of Beauty, Cosmetics & Makeup Related Products. You can receive Powder Foundations, Concealers, Base/Primers, Blushes, Mascaras, Eyebrow Gels, Glitters, Eye Brow Makeup, Eyeliner Makeup, Hair Color, Premium Polish, Matte Lip Creams, Metallic Lip Creams, etc.

Important Notes: We're liquidating mostly Major Name Brands in assortments. You will usually receive between 1 and 3 of each item, so there is not lots of duplicates in these bundles, however if you purchase multiple bundles you may receive more duplicates. This allows us to give the best Wholesale Liquidation Sale price and maximize how profitable each bundle is to our Dealer/Reseller customers.

UPC or ASIN: Various


Retail Price: $4.99 to $19.99 each

Product Notes: New Department Store Shelf Pulls & Overstocks. These are Great for both Offline Retailers an Online Sellers. These bundles are made specifically for reselling, not individuals because these bundles will include products for all shades of people.