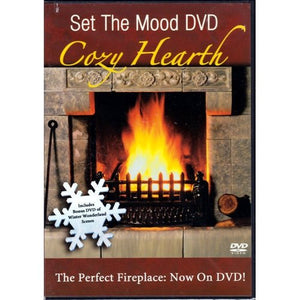 Set the Mood Cozy Hearth (Holiday DVD Set) The Perfect Fireplace
Direct Source Special Products Inc.
Regular price $14.99 $5.00 Sale
"Turn your TV screen into the perfect backdrop fireplace! Bring the perfect fireplace into your home with this DVD, featuring a radiant, wood fire that will bring a joyful glow to any setting. Choose from two sound options: the snap 'n crackle sounds of a slow-burning wood fire or captivating symphonic music, including selections from the holiday favorite, The Nutcracker. Enjoy a bonus DVD of wintry, snow-covered scenery, including beautiful images of winter wildlife - deer, polar bears, seals - in its natural setting. An ideal way to create a festive background for entertaining guests or sitting down to dinner with the family-essential holiday viewing."

Set the Mood DVD
DVD Features: 2 Sound Options - Cracklin' fire or Symphonic music
Bonus DVD of Winter Wonderland scenes
English, Spanish & French Language options
Runtime: 91 mins.
Rated: NR
Genre: Music
UPC: 779836208590