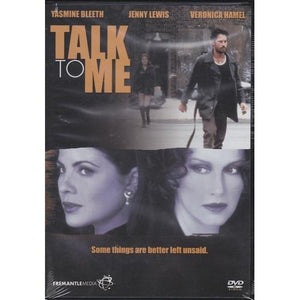 Talk To Me (DVD)
Direct Source Special Products Inc.
Regular price $9.99 $1.00 Sale
"An aspiring young television producer Diane Shepherd is thrilled when she lands a job on a famous television talk show. She is convinced that the show will not only jumpstart her career, but also give her the chance to help people and give them a public forum for their troubles and difficulties. When Diane meets Kelly Reilly a young troubled teen, Diane believes she has found the perfect human-interest story. But when Diane's mentor Sadie and the show's host, Howard Grant, betray Diane's trust, Kelly ends up the innocent victim. Diane is going to have to face some troubling decisions as she attempts to find justice for Kelly even if it means admitting her own guilt."
Starring: Veronica Hamel, Yasmine Bleeth, Peter Scolari, Jenny Lewis, Brenda Devine, Dawn Greenhalgh
Drama DVD 
Languages: English, Español, Francais
Runtime: 94 mins.
Rated: NR (Some material may not be suitable for children. Parental discretion is advised.)
UPC: 779836186294