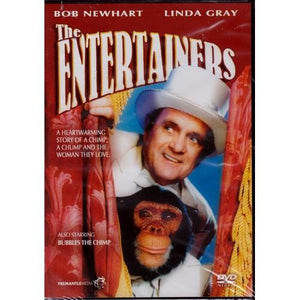 The Entertainers (DVD)
Direct Source Special Products Inc.
Regular price $9.99 $1.00 Sale
"Todd and his chimpanzee sidekick, Archie, are a struggling comedic team determined to make it big. In a final attempt to prove that they are not washed-up, Todd and Archie set off for the bright lights of Vegas to try their luck. As Todd reunites with his one true love, Laura, who is now a singing star at one of the casinos, stardom is within reach. But, true to Vegas, the odds turn against them and fate steps in with a real showstopper. Todd learns that success has a price, and he is forced to choose between friendship and stardom..."
DVD 
Starring: Bob Newhart, Linda Gray, Bubbles the Chimp
DVD includes:
DVD Features: English & French Languages
Runtime: 90 mins.
Rated: NR (Suitable for all family viewing) 
Genre: Romance/Comedy
UPC: 779836157393