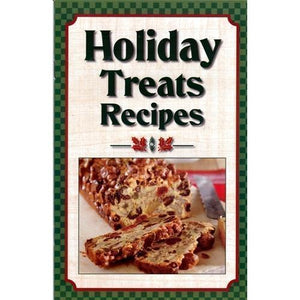 Holiday Treats Recipes (Paperback Book)
Publications International Ltd.
Regular price $3.99 $1.00 Sale

Make holiday treats the whole family will enjoy with these delicious dessert recipes!
Product Features:
Easy-to-follow dessert recipes
Includes recipes for Pies, Tarts, Cakes, Cheesecakes, Dazzling Desserts, Cupcakes, Candies
Recipes for Pies, Tarts include Chocolate Caramel Surprise Pie, Pumpkin Tart with Maple Crème, Upside-Down Apple Pie, and more
Recipes for Cakes, Cheesecakes include Flourless Chocolate Cake with Raspberry Sauce, Mini Peppermint Cheesecakes, New-Fashioned Gingerbread Cake, and more
Recipes for Dazzling Desserts include Chocolate Crème Brulee, Sautéed Pears with Maple Mascarpone Cream, Tangy Cranberry Cobbler& more
Recipes for Cupcakes and Candies include Dark Chocolate Hazelnut Fudge, Honey-Ginger Bourbon Balls, Pumpkin Snacker Cupcakes and more
32 pages
Book Size: Approximately 5 1/2" x 8 1/2"
UPC: 9781450851084