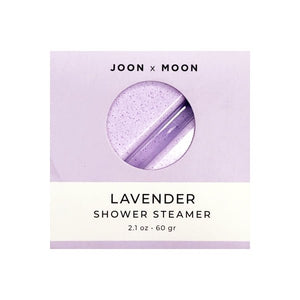 Joon x Moon Shower Steamer Bar - Lavender (Net wt. 2.1 oz.) Made in the USA
Joon x Moon
Regular price $4.99 $3.00 Sale
Product Features:
Pack of 1 Shower Steamer Bar
It's like a bath bomb but for the shower
Lavender essential oils fizz into the air for a calming and relaxing feeling
Moisturizing blend of Shea and Cocoa butter leaves skin feeling soft and smooth
Paraben-free, Phthalate-free, Palm Oil-free

Light, calming fragrance
Select Scent: Lavender
Size: Net wt. 2.1 oz.
Please Note: Place shower steamer on shower floor where splashes of water can reach it. Do not submerge in water. To make shower steamer last, keep it from getting too wet, store in container on shelf away from direct streams of water. If scent fades overtime, re-energize shower steamer by adding a little essential oil to it.